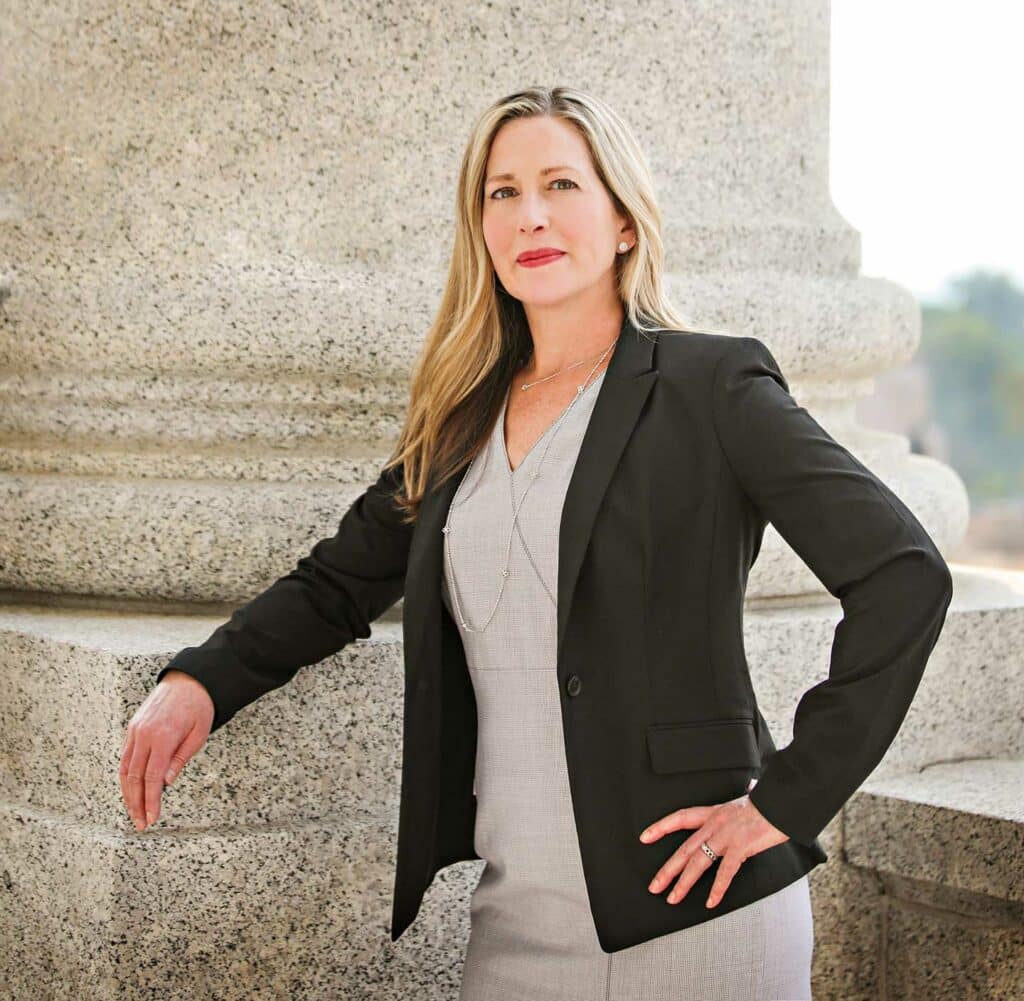 Jennifer Witt is a personal injury attorney who is passionate about helping clients tell their story. Jennifer is known for her compassion but also recognized as a fierce advocate. She will not stand for an insurance company taking advantage of or devaluing a client's suffering. She is known for getting policy limits settlements and being aggressive in her representation.
Personal injury cases require special talents from an attorney. Most importantly, the injury lawyer must be skilled at representing the unique impacts of injuries for a client. No two cases or clients are ever the same. So, it is imperative that an injury attorney is talented in both oral advocacy as well as writing and research. Jennifer has always excelled in both of these skills and she has been routinely recognized for her talents.
In 2000, Jennifer graduated from Gonzaga School of Law magna cum laude. She held positions as the Vice-President and President of Moot Court Council and was chosen for Gonzaga's National Trial Team. She received the Cali Award every semester for Research and Writing and received awards for the Negotiation Competition as well as the Appellate Competition. In more recent years, she has received the 10 Best Client Satisfaction Award from the American Institute of Personal Injury Attorneys and the Top 100 from The National Trial Lawyers.
Jennifer is committed to helping her community and feels honored when she can assist a client with debilitating injuries get a fair recovery. Injuries from car accidents, dog bites, or any other injury can completely derail someone's life and it can be hard to express how overwhelming the recovery stage can be. Jennifer understands this pain and will dedicate all of her talents to help clients be heard and compensated for their suffering.
From our clients:
Ms. Jennifer Witt has attention to detail. She asked specific questions, clarified procedures and kept me abreast of the legal process. Additionally, Jennifer exhibited compassion and developed a positive professional relationship with me. The bottom-line is that she and Witt Law firm provided me with a fair settlement for my personal injury case.

-Karen
Jennifer Burr Witt and her team really took great care of me! From beginning to end she was kind, caring and professional! This was my first experience with a car accident and lawyers. Her entire team is great, but Jennifer was friendly, she has great customer service skills!!! They made me feel like they really cared about me and settled my case right away. They took all the stress out of a bad situation! If you need a highly skilled Attorney that will work for you in case of an auto accident or personal injury claim, I HIGHLY recommend Jennifer and her team!

– J.O.
---
Personal Background
Jennifer grew up in the Pacific Northwest and attended college and law school in the State of Washington. Despite staying close to home for education, Jennifer spent a great deal of time exploring the world. Often a solo traveler, she enjoyed the challenge of stepping out of her comfort zone to meet new people and learn new languages. One of the most valuable learning experiences was spending five months in Nepal and making an attempt to reach Everest base camp. Unfortunately, a snow storm stopped her just hours from reaching camp. Learning to dig deep and deal with adversity is something Jennifer borrows from her travels to help manage challenging cases.
When not at her desk, Jennifer spends her free time hiking, skiing, and biking. She has even been known to compete in a triathlon or two. Jennifer trained with the Kitsap TriBabes years ago but, as the Witt kids grew up and found athletic passions of their own, her time is now spent running kids to the mountain or rink. There are two alpine ski racers and a figure skater in the Witt crew but the MVP of the Witt family is their adopted senior dog, "Grandpa," whose antics keep everyone laughing.
There have been many mentors and leaders who have inspired Jennifer personally and professionally. One of her favorites is Muhammad Ali. For her, he is the embodiment of both purpose and hard work. Two of her favorite quotes are, "Service to others is the rent you pay for your room here on earth" and "The fight is won or lost far away from witnesses – behind the lines, in the gym, and out there on the road, long before I dance under those lights." Jennifer considers the practice of law a great privilege and a commitment of service to those she helps. Additionally, she understands that there is no shortcut for preparation. A case is won "behind the scenes" with hard work and commitment to the end goal.